7

Comments
Delivered by TakeoffZebra on 07 September 2007 at 4:55 PM.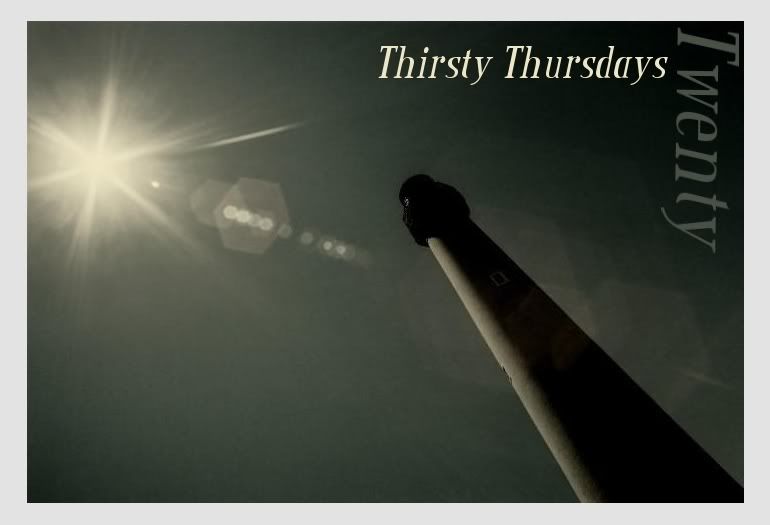 Welcome to Thirsty Thursdays: 20! We've been goin' at it for at least 20 weeks, so to commemorate the occasion, we're going to take you 20 years back, to the 80s! It was a glorious time, a time I don't remember, but one that Pipe and I were born in. But enough about us, here's some music!
First up is a song by Lindsey Buckingham of Fleetwood Mac. If you've ever seen National Lampoon's Vacation, or the European and Vegas sequels, you've heard the song. "Holiday Road" is a road trip song driven by its steady bass line and sing-a-long chorus.
Lindsey Buckingham- "Holiday Road"
[Removed]
Thomas Dolby released the album "The Golden Age Of Wireless" in 1982, and revolutionized the synthpop genre. This quirky album was a huge hit, and is still his magnum opus, but Mr. Dolby has gone on to do much more than making records. He was known for being the CEO of Beatnik Inc, which developed polyphonic ringtones, and is creditted with the Nokia theme. But here's "She Blinded Me With Science", a truly great synthpop song.
Thomas Dolby- "She Blinded Me With Science"
[Removed]
R.E.M. are alt-rock legends and one of Athens, Georgia's greatest bands. Without further adieu, here is "It's The End Of The World As We Know It (And I Feel Fine)" from "Document".
R.E.M.- "It's The End Of The World As We Know It (And I Feel Fine)"
[Removed]
Van Halen is awesome. Well, they were awesome until David Lee Roth left, but "Jump" from 1984's appropriately titled album, "1984", showcases a good 80s vibe with happy lyrics, peaking synths, and Eddie Van Halen on guitar.
Van Halen- "Jump"
[Removed]
Queen was around for a while before the 80s, but didn't start using synthesizers until 1980's "The Game". The song "Rock It (Prime Jive)" is a good example of Queen + synth, and is much better than Queen + Paul Rodgers.
Queen- "Rock It (Prime Jive)"
[Removed]
I figured a good end to the 80s music post would be a Guns N' Roses song. They really do seem to bridge the decade gap pretty well. "Appetite For Destruction" really is a fantastic album. Here's the song that, back in middle school, was the sole reason I became interested in music other than hit radio. Thanks guys, but Axl, seriously, where's "Chinese Democracy"?
Guns N' Roses- "Welcome To The Jungle"
[Removed]
Alright then, sorry for the late post. College proves to be busy, but we have much more on the way. Hope you enjoyed this short tour of the 80s. Enjoy.
Labels: guns n roses, lindsey buckingham, queen, rem, thomas dolby, van halen