2

Comments
Delivered by Unknown on 28 October 2007 at 7:02 PM.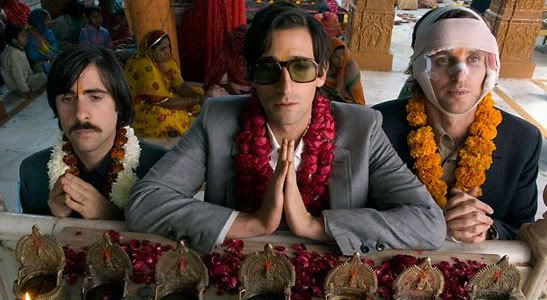 Once again Wes Anderson has perplexed my sub-conscious with another trivial movie, however, this one hits a little closer to home. The brothers three; Jack (Jason Shwartzman), Peter (Adrian Brody) and Francis (Owen Wilson) have drifted apart from one another after the what seemed untimely death of their father. A year later the eldest brother Francis decides that he wants to reunited the estranged men and to know them as brothers again. This leads them towards a "spiritual journey" on a train ride throughout India. However, because of tensions between the brothers another path may await them. Anderson successfully captures the feelings of hatred, distance and togetherness demonstrating that paths cannot be predetermined but at the same time showing that things may happen with a certain reason in mind.
Anderson puts the melodic music of Indian Filmmaker and musical score composer Satyajit Ray to use, to better demonstrate the Indian culture. He also uses songs from various other artists such as The Rollings Stones and The Kinks. One of Anderson's goals for the movie was to successfully capture and portray the culture of one of the worlds most "spiritual" countries.
The Rolling Stones - "Play with Fire"
[Removed]
The Kinks - "This Time Tomorrow"
[Removed]
"I want us to become brothers like we used to be."
Labels: the darjeeling limited, the kinks, the rolling stones